Welcome to Food & Nutrition Services!
Click picture for Video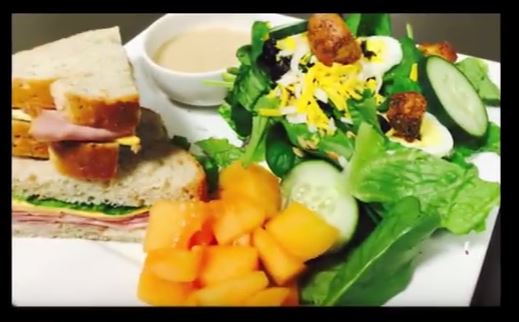 ---
Message from Westonka Foodies - Year End Meal Account Information
Westonka Foodies School Meal Account Balances
Effective Monday, May 22, 2017 - All NEGATIVE balance meal accounts MUST BE PAID IN FULL and REMAIN with a positive balance until the end of the school year. For your convenience, Westonka Foodies has attached a Meal Account Cost Sheet to help families estimate how much money they will need in accounts for the remainder of the school year.
---
Food & Nutrition Services RevTrak Payment Portal – Closing Date
Online payments will close on Monday, June 5, 2017. Food & Nutrition RevTrak payment portal will reopen again in August.
---
Year-End Remaining Meal Account Balances
Balances remaining in a student's account at the end of the school year will carry over to the next school year. If the student moves to a new building, the balance will transfer. We encourage parents to check balances before school starts to ensure that there is enough money in the account. On Friday, June 2, 2017, if necessary, Westonka Foodies will transfer funds between siblings to clear any negative meal accounts.
Payments for negative meal accounts need to be received in the Food Service office (MWHS) by Monday, June 5, 2017 (2:00 pm) or paid through RevTrak online by Monday, June 5, 2017.
---
Graduating Seniors
Fund balances of graduating seniors will be automatically transferred to a sibling meal account within the district. If no sibling is enrolled in the district, please contact Food & Nutrition Services to request a refund or to donate the remaining meal account balance to Westonka Foodies Angel Account helping families that need a little help paying for school meals.
---
Refunds of $10 or Greater (School Meal Accounts)
Complete a Meal Account Refund Request Form (link) and forward to Food & Nutrition Services at 5905 Sunnyfield Road East, Minnetrista, MN 55364, or fax 952.491.8083 or scan and email baileyd@westonka.k12.mn.us. Requests for meal account refunds should be made by Friday, June 2, 2017 (2:00 pm).
---
Meal Account Purchase Histories
All customer purchase histories for school year 16-17 will be removed the week beginning June 5, 2017.
---
Application for Educational Benefits (Free or Reduced Meals) School Year 17-18
As a reminder, families must reapply for free or reduced-price meals each school year. The application for next school year will be available online during the first week in August. Families can either complete a paper copy or apply online with Skyward Family Access.
Please contact our office at any time if you have additional questions or need more help. We look forward to serving you.
Laura Metzger, Registered Dietitian & Director

952.491.8084

metzgerl@westonka.k12.mn.us

Deb Bailey, Admin Assistant

952.491.8088

baileyd@westonka.k12.mn.us
---
Westonka Foodies Invites You To
Sponsor a Child's
School Breakfast & Lunch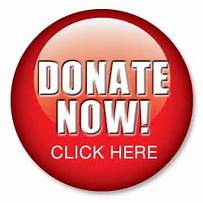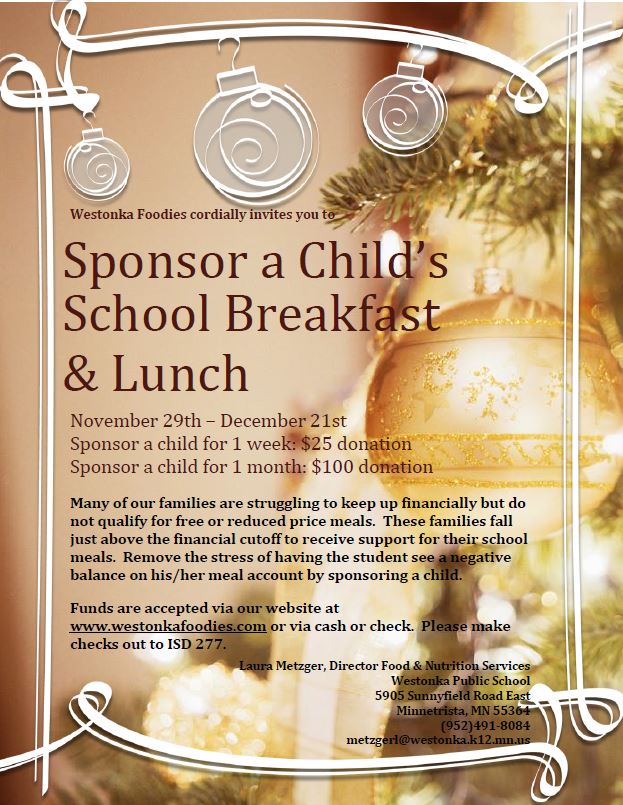 ---
Good nutrition and learning go hand in hand!
Food & Nutrition Services is made up of a team of food and nutrition professionals who are dedicated to students' health, well being, and their ability to learn. We support learning by promoting healthy habits for lifelong nutrition and fitness practices.
Meals, foods, and beverages sold or served at schools meet state and federal requirements, which are based on the
USDA
Dietary Guidelines
. We provide students with access to a variety of affordable and appealing foods that meet the health and nutrition needs of students.
---
Skyward Family Access is an easy way to access important information about your student(s) meal account without fees such as:

Meal Account PIN #
Meal Account Current Balances
Purchase & Payment Histories
Set up to receive Email Notifications when accounts have low balances
Apply Free/Reduced-Priced Meals with an online Application.

Click here for more information on Skyward Family Access and to pay online!

RevTrak (Online Meal Account Payment System): Make meal account payments online through RevTrak. Find the RevTrak link on Skyward Family Access. There is convenience fee added to each payment.
---
News about breakfast @ Westonka
Westonka Foodies Angel Fund (SY 15-16)
Click on What's New for more details
How to Make online Meal Account Payments with Skyward Family Access?
---